For researchers
Advice we can provide
Many of our clinical researchers are very experienced and need relatively little guidance and assistance in the pursuit of their research activities. However, we can still provide you with support throughout a clinical research project, including:
sponsorship issues
research costs and funding applications
ethical and regulatory applications and ongoing management
study co-ordination and data management
quality control and monitoring
statistical analysis (in collaboration with Bournemouth University)
training and guidance
For those of you who are less experienced or completely new to research, the following pages are for you.
How to request advice
In the first instance you should This email address is being protected from spambots. You need JavaScript enabled to view it. and we will be able to address your queries or signpost you to further support.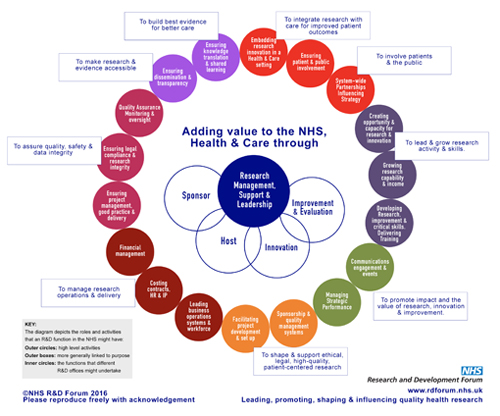 Why become a research investigator
For patient benefit
Apart from the opportunity of providing the latest treatments (and, of course, advancing healthcare) recent evidence has concluded that 'where clinicians and healthcare organisations engage with research, there is a greater likelihood of a positive impact on health care performance'(14).
It is written in the NHS Constitution
The NHS Constitution clearly states: 'a commitment to innovation and to the promotion and conduct of research to improve the current and future health and care of the population' (15).
Hospital doctors see research as an imperative
A recent survey has reported that 89% of hospital doctors believe it is 'very important' for the NHS to support research into treatments for patients (16). Moreover, 53% of hospital doctors see research as an integral part of their role, and 55% say it enhances their career.
Clinical trials have public interest
There are currently steps being taken to raise public awareness of clinical research. A recent survey has reported that 89% of people would be willing to take part in clinical research if they were diagnosed with a medical condition or disease (17).
(14) Clempson, A. (2013) Do research active organisations provide better healthcare? Available at: http://www.amrc.org.uk/blog/do-research-active-organisations-provide-better-health-care
(15) The NHS Constitution. Available at: http://www.nhs.uk/choiceinthenhs/rightsandpledges/nhsconstitution/pages/overview.aspx
(16) ComRes Report (2013) Medical Research among Healthcare Professionals in England. Available from: http://www.amrc.org.uk/publications/medical-research-among-healthcare-professionals-england
(17) Turner, M. (2014) Nine out of 10 people would be willing to take part in clinical research. Available at: http://www.amrc.org.uk/blog/nine-out-of-ten-people-would-be-willing-to-take-part-in-clinical-research
This email address is being protected from spambots. You need JavaScript enabled to view it.