Dr Earl Williams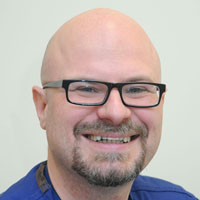 Consultant hepatologist
Specialties
Gastroenterology
General Medicine
Hepatology
Dr Earl Williams qualified from Leicester University Medical School in 1994. He trained in general internal medicine in the UK and New Zealand before joining the gastroenterology programme at Sheffield in 1999. In 2003 he was appointed British Society of Gastroenterology Fellow. He subsequently undertook further subspecialty training in hepatology in Brisbane, Australia, as Fellow for the Queensland Liver Transplant Service. Since 2008 he has worked as a consultant gastroenterologist and hepatologist at the Royal Bournemouth Hospital. He undertakes ERCP, supervises Royal Bournemouth Hospital's viral hepatitis treatment programme and is currently lead clinician for the Bournemouth Digestive Diseases Centre.
What people can be referred for
Diseases of the liver and gastrointestinal tract
Why I chose my specialties
Gastroenterology is specialty that combines intellectual challenges with the opportunity to help patients through endoscopy and practical procedures.
Primary contact
Secretary: Sarah Halliday
0300 019 6173
Membership of professional bodies
FRCP, BSG, BASL, EASL
Year of registration
1994
Special clinical interests
ERCP and hepatobiliary disease
Publications
Updated guideline on the management of common bile duct stones (CBDS). Williams E1, Beckingham I2, El Sayed G1, Gurusamy K3, Sturgess R4, Webster G5, Young T6. Gut. 2017 May;66(5):765-782. doi: 10.1136/gutjnl-2016-312317. Epub 2017 Jan 25. This is available free here.
Testoni, Pier Alberto; Mariani, Alberto; Aabakken, Lars; Arvanitakis, Marianna; Bories, Erwan; Costamagna, Guido; Deviare, Jacques; Dinis-Ribeiro, Mario; Dumonceau, Jean-Marc; Giovannini, Marc; Gyokeres, Tibor; Hafner, Michael; Halttunen, Jorma; Hassan, Cesare; Lopes, Luis; Papanikolaou, Ioannis S.; Tham, Tony C.; Tringali, Andrea; van Hooft, Jeanin; Williams, Earl J.: - Papillary cannulation and sphincterotomy techniques at ERCP: European Society of Gastrointestinal Endoscopy (ESGE) Clinical Guideline - Endoscopy; Issue 07, 2016. Available here.
Wilkinson M, Charnley R, Morris J,Carter R, Allison M, Mulcahy H, Williams E, Oppong K, Webster G, McNair A, Makin A, Deakin M, Sturgess R,Valori R, Green J, Ellison H. ERCP, The Way Forward. A Standards Framework. British Society of Gastroenterology, London 2014. Accessible here.
Hydes T, Allen H, Al-Shamma S, Hovell C, Sharer N, Williams EJ. District General Hospital networks can provide effective and safe Hepatitis C treatment: Results of a 5 year audit. European Journal of Gastroenterology and Hepatology. Eur J Gastroenterol Hepatol. 2013 Aug;25(8):942-7. doi: 10.1097/MEG.0b013e32835fba14.
Wadsworth CA, Dwyer LK, Partanandi B, Philips N, Mahmood S, Krishnan B, Taylor TL, Seward E, Wilson P, Singhal A, Williams E, Westaby D, Webster GJ, Sturgess R on behalf of UK Multicentre ERCP Study Group. Current Performance of ERCP in the Clearance of Bile Duct Stones in UK Centres - Working towards robust key performance indicators. GUT. 2014; 63 (Suppl 1) A210. Submitted December 2013, published June 2014.
Research
Member of British Society of Gastroenterology and European Society of Gastrointestinal Endoscopy guideline development groups