Sustainability
University Hospitals Dorset NHS Foundation Trust (UHD) has launched its 'Green Plan' - a strategy that puts UHD on a path to having 'net zero' carbon emissions by 2040, in line with NHS England's carbon neutral target. It also commits the trust to deliver progress against all of the UN Sustainable Development Goals and achieve a 100% score under the NHS sustainability assessment framework by 2030.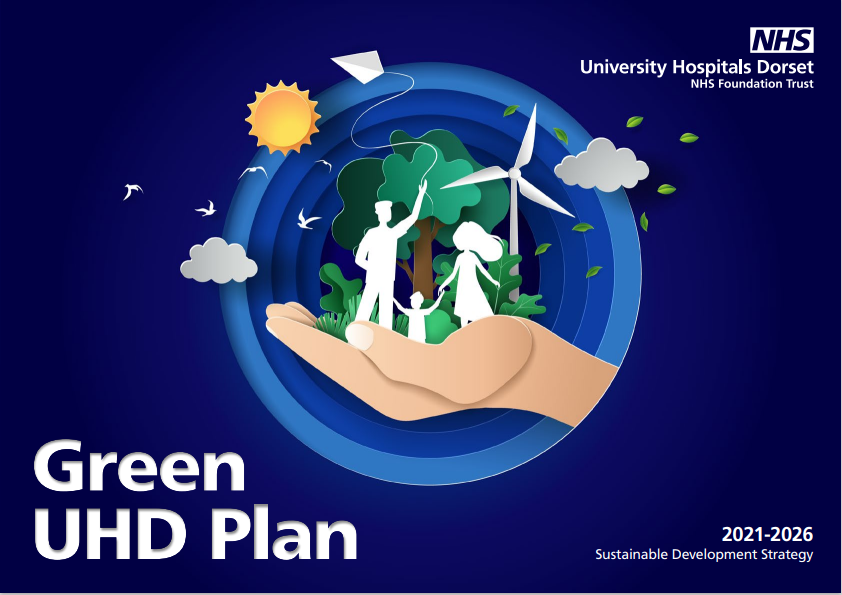 To organise its activities the trust has created 10 'areas of action', threading sustainability throughout the organisation in order to reduce our impact on the environment.
"As one of the largest organisations in Dorset, with a significant economic, social, and environmental impact, it's really important that we work in a way that has a positive effect on the communities we serve and that we protect the environment which sustains us. "Our plan will ensure that all our activities are focused on benefiting and safeguarding our environment – with everyone in the Trust having a part to play."
Debbie Fleming, UHD's chief executive
"The trust board were unanimous in their decision to approve this strategy and to champion the importance of working towards greener goals as we make future decisions. We are now reviewing our clinical models of care, transport and all areas of our work, to become more sustainable. Key to this is our staff, patients and partners helping us – so we're asking people to read the plan, join the movement, and make action happen."
Richard Renaut, UHD's chief strategy and transformation officer
"The Green Plan is a watershed strategy that will shape the way we get to work, who we collaborate with and how, our clinical processes, what we buy, who we buy from and many other factors. This is UHD's response to the challenges posed by climate and ecological breakdown, meeting the UN Sustainable Development Goals and becoming a Net Zero organisation by 2040."
Stuart Lane – UHD Sustainability and Carbon Manager
Please check out the Trust sustainability strategy, otherwise known as the UHD Green Plan, aka GUHD Plan, which sets out where we are on our sustainability journey, our plans for the future, what is driving these plans and how they will be managed. We are also working closely with Bournemouth University on a range of sustainability issues, you can find the latest updates here.