Dr Ravi Punwani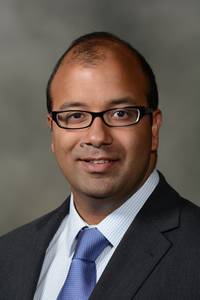 Consultant respiratory physician
MBBS, BSc (Hons), FRCP Edin, MD (res)
Areas of specialist interest
General respiratory medicine, Lung Cancer, Endobronchial Ultrasound and Pleural Disease
About Dr Punwani
Dr Punwani qualified from Guys and St Thomas' Medical School in London where he also gained a BSc in physiology. He has worked in London and Sydney and completed his respiratory specialty training in the Wessex region in the UK. He undertook a period of research at the Royal Marsden Hospital and the Institute of Cancer Research focusing on early diagnosis and symptom management of patients with lung cancer. He was awarded his MD in Oncology from the University of London in 2015.
During his time in research he was awarded 1st prize for his oral presentation at the British Thoracic Oncology Group Meeting (BTOG), Highly Commended for the Excellence and Innovation Award at the British Thoracic Society Summer Meeting and Best MD Oral presentation at the Institute of Cancer Research Conference.
He started at Poole Hospital in 2015 where he is the lead for lung cancer and pleural disease (including thoracic ultrasound and medical thoracoscopy). He established a local endobronchial ultrasound service (EBUS) to improve the timely diagnosis and staging of patients with lung cancer.
He also has an interest in education being the previous Royal College of Physicians College Tutor.