Major changes to RBH road layout from 17 September 2021
New access arrangements will be put into place later this month at the Royal Bournemouth Hospital as part of the major construction project to create the new maternity, children's, emergency, and critical care centre on the site.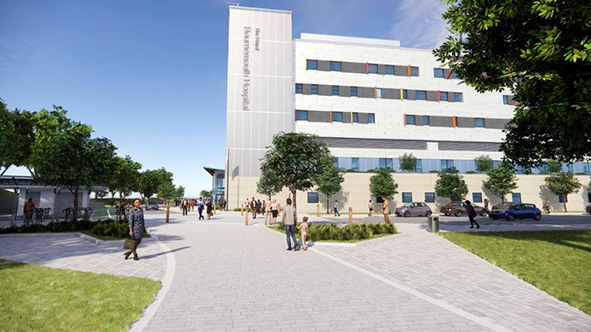 From 17 September there will be a number of changes to the road layout at the site:
a new one-way traffic system will operate, with drop off parking outside the West Entrance
all public vehicles will follow a clockwise route around the site, exiting the site at the Deansleigh Road junction opposite the Village Hotel
the current access from the Deansleigh Road junction will remain in place however vehicles will only be able to travel anti clockwise around the site as far as car park B where they will have to turn and follow the same route to exit
there will also be changes to the flow of traffic around car park C with a one-way system coming into effect.
car park C will be extended, and new exit barriers will be installed alongside the multi storey car park
In addition, there has been a need to cover some windows on the upper level of the current main hospital building. This has been done for safety reasons and to reduce noise impact from the immediately adjacent construction site.
The updated site map showing the changes in operation from 17 September is here.