New name for major new NHS investment in Dorset
On its' first birthday (1 October), University Hospitals Dorset (UHD), has announced the name of its' major new construction at Royal Bournemouth Hospital: 'The
BEACH Building'
The name follows a consultation with staff and stakeholders, which saw hundreds of suggestions.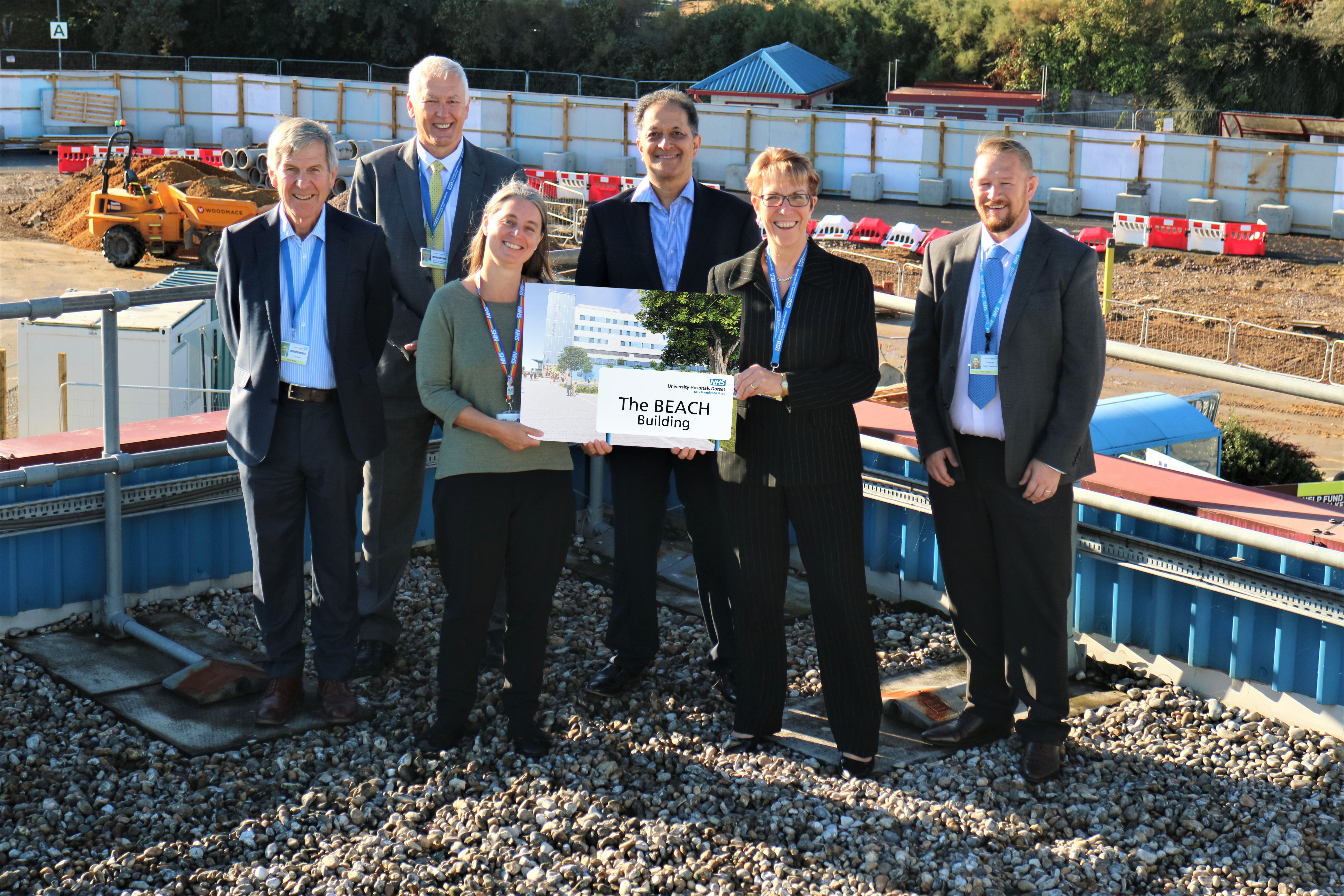 BEACH represents what happens in the building: Births, Emergency care, And, Critical care and child Health.
The idea came from Lisa Stooks, a librarian in the Trust's library and knowledge service, who took part in an extensive engagement to suggest a name for the building.
Commenting on the announcement, Debbie Fleming, UHD's chief executive, said:
"In deciding what to name the new building we wanted something that will stand the test of time as well as acknowledging the range of clinical services within.
"The BEACH Building was way by far the most popular name considered, and was supported by representatives of all the clinical teams who will work in the building.
"We are so grateful to Lisa for her suggestion and were delighted that she was able to join us to announce the new name."
Looking forward to what the new development will mean, she added:
"Today's announcement is a significant milestone as we move towards a single site for emergency care.
"The transformation of the Royal Bournemouth Hospital site is well underway providing brand new patient facilities for top class care."
Richard Renaut, UHD's chief strategy and transformation officer, said:
"The BEACH Building is clear, logical and descriptive - it also sets us apart as being a 'hospital by the sea'.
"The name also means we can have beach themed wayfinding and artwork, as well as reflecting the range of individual patient groups using the building."
The new building will open in Autumn 2024 and forms part of the £250m transformation of UHD's hospitals, which has recently had final HM Treasury approval. The total programme of works runs up to 2026 and includes investment to develop Poole Hospital as the major planned care hospital for east Dorset and ambitious plans for its Christchurch Hospital to support ongoing patient treatment.
Photo caption (LtoR) :
David Moss, UHD chairman; Edwin Davies, UHD director of estates and capital development; Lisa Stooks, UHD librarian, Pankaj Davé, UHD non-executive director and chair of UHD transformation committee; Debbie Fleming, UHD chief executive; Paul Rowley, Integrated Health Projects (IHP), senior project manager (principal contractor)