Outline planning permission secured for developments on the RBH site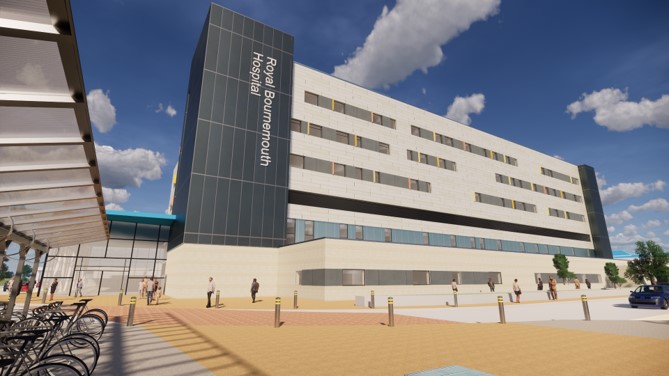 BCP Council have approved our latest plans for developing the Royal Bournemouth Hospital (RBH) site.
The permission is a major milestone in the reorganisation and improvement of healthcare facilities in Dorset with the creation of the major emergency care centre at RBH together with Poole Hospital becoming the main centre for planned treatment and care. The RBH proposals include a new six storey, c.25,000 sq.m. building at the front of the hospital site to accommodate emergency, critical care, maternity unit and children's' health, a new pathology laboratory (2,600 sq.m.), nursing home (3,000sq.m.), and a new 975 space multi-storey car park.
UHD appointed Savills in March 2019 to advise on all aspects of planning strategy and the delivery of the outline planning permission. Following BCP Council planning committee resolution to grant in July 2020, extensive negotiations with the council have also culminated in a s106 agreement whereby the trust has committed to delivering a comprehensive package of sustainable transport measures. Savills is currently retained by the trust to submit reserved matter and condition discharge applications ready for a start on site in Q2 this year.
Commenting on this news, Richard Renaut, chief strategy and transformation officer said,
"We are delighted to have been able to secure outline planning permission for this complex project.
"These plans form part of the £250m transformation and development plans for our hospital sites and is a 'once-in-a-generation' opportunity to improve the future provision of healthcare for the whole of the Dorset and surrounding areas.
"We are grateful for the close support of BCP Council, Savills and UHD colleagues and look forward to this important development coming out of the ground in 2021."