'Developing the Poole Hospital site' brochure launched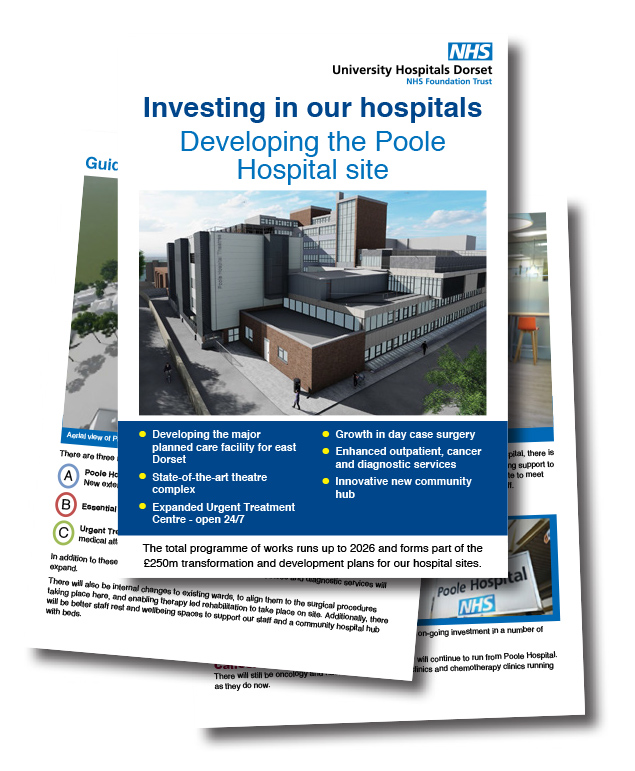 University Hospitals Dorset has just published the second in a series of brochures highlighting how the hospital's sites are going to be transformed over the next few years as part of a £250m investment in local health services.
The new brochure focuses on Poole Hospital as it transforms to become the major planned care facility for Dorset. The brochure contains details of the many patient and staff benefits the developments will bring, as well as artists' impressions of how the new buildings will fit into the hospital site.
Commenting on the changes, Debbie Fleming, chief executive, University Hospitals Dorset, said:
"This is an exciting time for Poole Hospital as we start the major transformation programme which will refurbish, modernise and develop the site so it is fit-for-purpose for its longer-term future.
"With the site being developed as the county's major planned care facility, the new theatre complex is a priority for the Trust, as the existing facility urgently needs to be updated and expanded.
"Patients and staff alike will benefit from these investments which will provide much more space and a better working environment and form a key part of a major transformation and development programme of our hospital sites."
Copies can be picked up from a UHD hospital main reception or read here.