University Hospitals Dorset wins trio of patient experience awards
University Hospitals Dorset's (UHD) outpatient assessment clinic has picked up three accolades at the 2022 Patient Experience Network National Awards ceremony.
Outpatient Assessment Clinic (OAC), based in Poole's Dolphin Shopping Centre, won in the following three categories: 'Partnership working to improve the experience', 'Integration and improving social care', and 'Integration and continuity of care'.
The clinic opened last year in response to long waiting lists caused by the pandemic and is helping to reduce waiting times and increase the accessibility to life-saving screening. It is one of a number of clinics across the county that make up the Dorset Health Village – the other in South Walks House, Dorchester – and together they give patients the opportunity to also access free health and wellbeing support from LiveWell and Active Dorset in a community setting.
Since opening, as well as delivering thousands of Covid vaccinations, the clinics have seen over 10,000 patients, have had great feedback from patients, and received a number of high profile visits to see how the model could be adopted elsewhere across the country, including from Amanda Pritchard, chief executive of the NHS.
Jonathan Wright, head of patient access for UHD, said: "It has been a huge privilege to represent the Outpatient Assessment Clinic's 'Think Big' team at the Patient Experience Network National Awards this year and it is absolutely amazing that the team, the trusts involved, including Dorset Country Hospital along with UHD, and the Dorset ICS have been recognised for their achievements for innovation in elective recovery.
This initiative has made a big impact on seeing patients sooner and progressing them through their pathways, and patients have fedback that their experiences have been very good.
I am extremely proud to have presented our initiative, learning, outcomes and patient feedback at the awards, and was overwhelmed by the interest in our project. It was amazing to take home three awards on the day, and I would like to take this opportunity to thank the team, staff, volunteers, partners and patients for their contributions and dedication to thinking differently."
The Patient Experience Network National Awards are the first and only awards programme to recognise best practice in patient experience across all facets of health and social care in the UK. The network celebrated its 12th year of national award celebrations, with the ceremony held at the University of Birmingham on Wednesday 28 September.
To watch a BBC South Today report on the opening of the clinic, along with patients' first impressions, head here.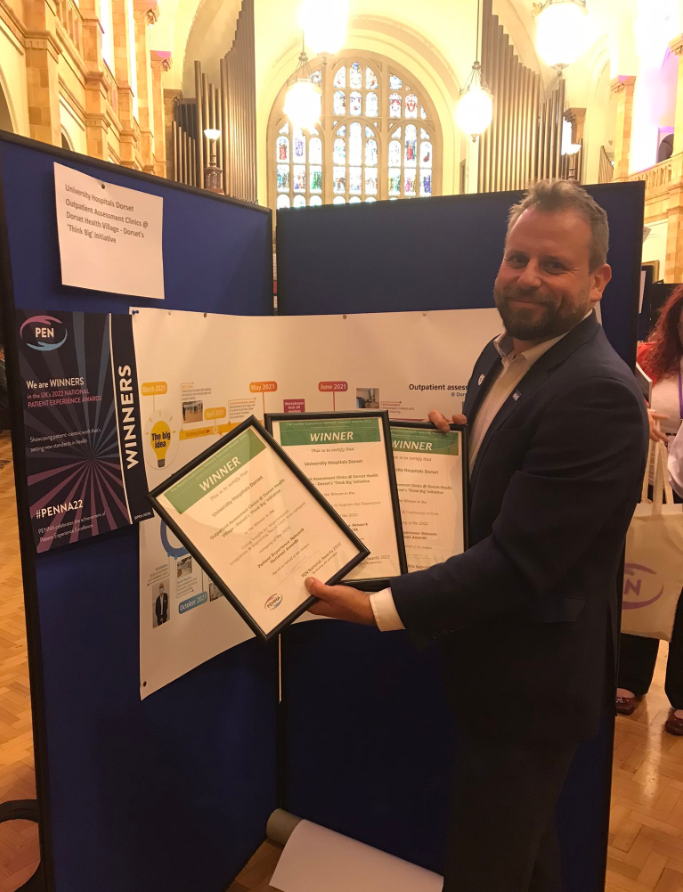 Jonathan Wright, UHD's head of patient access, at the award ceremony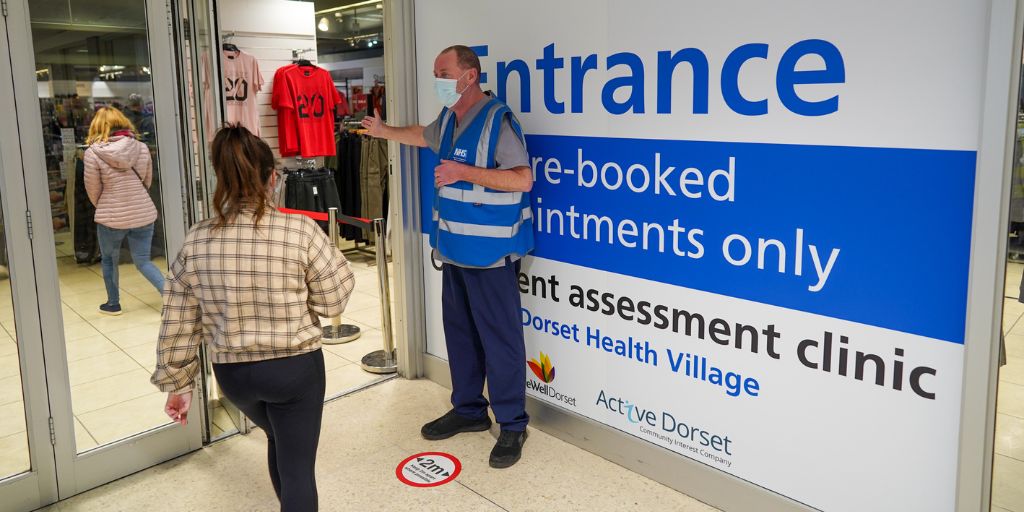 The Outpatient Assessment Clinic is based in Poole's Dolphin Shopping Centre