Anaesthetics Department
Our anaesthetics departments at both the Royal Bournemouth and Poole hospitals work closely with other areas to support your patient journey.
The Anaesthetic Department at the Royal Bournemouth Hospital is one of the few departments nationally to be accredited by the Royal College of Anaesthetists (RCoA) in recognition of its commitment to providing high quality patient services.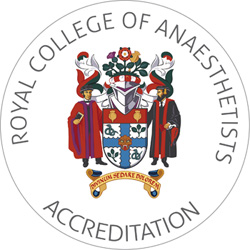 Critical Care
The Anaesthetics Department is responsible for Critical Care, which includes the Intensive Care Unit (ICU) and the High Dependency Unit (HDU).
The units provide care for critically ill patients who need intensive monitoring and treatment including life-support. Patients are under the care of our five specialist consultant anaesthetists.
Critical Care also provides an outreach service. This supports the hospital wards caring for patients who have been discharged from Critical Care to other areas within the hospital, as well as providing advice and assessment for patients who may need critical care.
Critical Care patient leaflets are available here.
State-of-the-art theatres
The anaesthetics departments at both the Royal Bournemouth and Poole hospitals manage the operating theatres.
Our theatres provide surgeons with state of the art equipment and highly skilled staff, enabling them to perform the latest procedures.
After you have had an operation or procedure under local or general anaesthetic, you will receive one to one care in the recovery area until you are well enough to return to your ward.
Acute Pain Service
A team of specialist nurses work with anaesthetists, surgeons and ward staff to provide expert advice and training in the treatment of pain and symptoms following surgery.
Bournemouth Consultants
Dr Nigel Beauchamp
Critical Care
Dr Ian Mowat
Vascular Anaesthesia Lead
Dr Peter Berridge
Ophthalmic Anaesthesia lead
Dr Julia O'Kane
Equipment lead
Dr Sarah Berridge
College Tutor
Dr Elaine O'Shea
Acute Pain
Dr James Berrington
CLW Rota Lead
Dr Warwick Pepper
Infection Lead
Dr Nigel Chee
Critical Care
Dr Martin Schuster-Bruce
Critical Care
Dr Martin Clark
Acute Pain
Dr Michelle Scott
Critical Care Lead
Dr James Craig
Orthopaedic Lead
Dr Dominic Smith
Dr Jules Cranshaw
Dr Isabel Smith - Clinical Transformation Lead
Paediatric Lead
Dr Caroline Fortescue
Obstetric Anaesthesia Lead (PGH)
Dr Ben Thorpe
Dr Tom Green
Directorate Clinical Governance lead
Dr Guy Titley
Audit Lead, Recovery lead
Dr Richard Green - Clinical Director
Pre-assessment Lead
Dr Doug Tunney
Dr Fran Haigh
Dr Sarah Turle
Critical Care
Dr Mike Hargreaves
Dr Andrew Vaughton
Emergency Surgery Lead
Dr Tom Hutley
Dr James Walker
Patient Information Lead
Dr Peter Isherwood
Critical Care
Dr John Ward
AAGBI Association Board Honorary Treasurer
Dr Deepa Kallayiram
Department ACSA Lead, Regional Patient Safety Lead, Trust Sedation Lead
Dr Nigel White
Critical Care
Dr Emma King
Critical Care
Dr Jess Wiggins
Dr Shane McCabe
Day Surgery Lead
Dr Lynsey Woodward
Quality Improvement lead
Dr Robert McCormick
Critical Care
Bournemouth Associate Specialists/Specialty Doctors
Dr Anwar al-Rahman
Dr Roger Laishley
Chronic/interventional
pain management
Dr Jessica Bailey
Dr Robyn Lee
Critical Care
Dr Lukas Balcarek
Dr John Melville
Dr Ben Cambers
Dr Felicity Miller
Dr Hussain El-Abiary
Dr Muhammad Qasim
Dr Will Holdich
Critical Care
Dr Antony Weston
Dr Wren Holdom
Critical Care
Poole Hospital Consultant Staff
Several Poole based consultants perform regular sessions at Bournemouth
Management and administration
Louise McGraw
Directorate Manager
Charlotte Freeman-Laurence
Service Manager
Pete Holloway
Care Group Administrator
Gemma Babur
Rota Administrator
Vicky King
Rota Administrator
Krisztina Toop
Administrator