Bournemouth University (BU) – University Hospitals Dorset (UHD) Partnership Programme
The University Hospitals Dorset NHS Foundation Trust works in partnership with Bournemouth University to the benefit of both organisations.
Strategic alignment
We have a long history of working with Bournemouth University, from joint research projects to student placement opportunities and professional development for staff. The Trust's University status agreed in October 2020 formally recognises this close working relationship and supports further collaboration. Drawing on the collective expertise from university and our hospitals not only creates more opportunities for students, university and hospital staff; crucially, it also promotes better patient outcomes and supports people to live longer, healthier lives.
As University Hospitals Dorset, the benefits of the partnership will enable staff from across the hospitals to link with counterparts at the university, working and learning together to improve services for patients.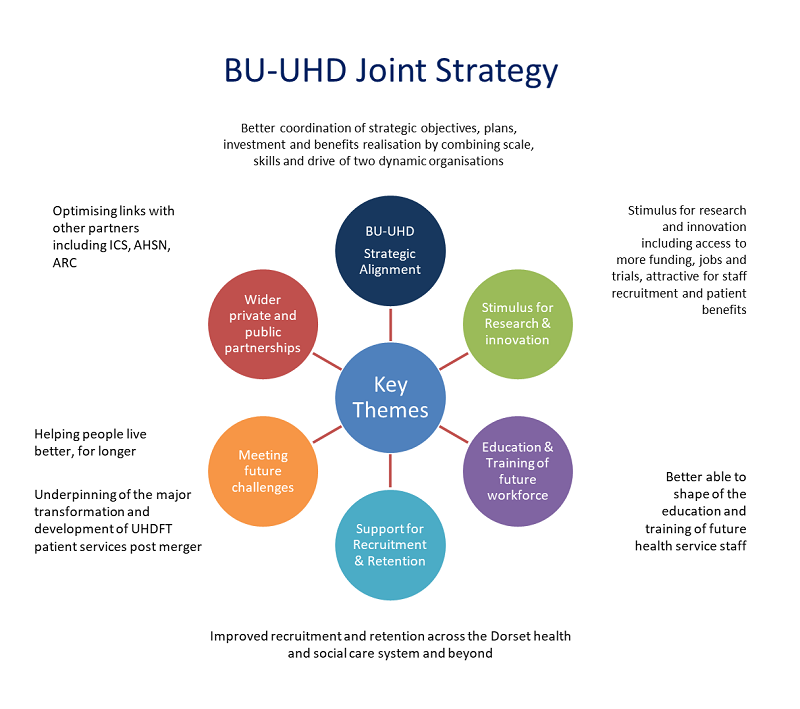 Education and training our workforce
BU students from across healthcare disciplines undertake placements at the hospitals, giving them the chance to put their learning into practice with support and guidance from a mentor or practice supervisor.
Many graduates go on to work for the hospitals, such as Marie Miller, Cancer Care Matron at University Hospitals Dorset, a BSc (Hons) Nursing and MA Advanced Practice graduate.
Marie said: "It's really exciting that we can move forward and collaborate on all our working across the three trusts across Dorset and with the university to increase research and education to ensure that we can improve the care for our patients and the education for our staff."
Hospital staff also have the opportunity to learn at BU who are the hospitals' leading Higher Education CPD provider, with many continuing professional development (CPD) activities organised with BU.
Lecturer Practitioners combine teaching at the university with clinical roles in the hospital, ensuring skills learnt in the classroom translate into real world scenarios. A vital part of the workforce for both organisations, the number of these roles is likely to increase as we work more collaboratively.
As we work more closely with Bournemouth University we will be able to play a bigger role in developing training and CPD for the future in both medical and non-medical areas, utilising the expertise that already exists within our teams.
Support for recruitment and retention
We currently have over 40 members of UHD staff who are visiting faculty members working closely with colleagues in both organisations.
Visiting Professors make significant contributions to providing leadership with university staff on relevant education, research or practice development projects, contributing to high quality outputs. These members of staff are individuals of the highest standing in their profession who are held in high esteem as leading thinkers in their field.
Visiting Fellows make an on-going commitment to education, research or practice, contributing to high quality outputs. Visiting fellows hold a postgraduate/ research degree qualification (normally a doctorate) and have a nationally/ internationally renowned reputation, able to support the education, research or practice activities of the University in a specific subject area.
Visiting Associates make a contribution to a defined programme of education, research or practice in association with a member of the academic staff or a recognised academic grouping.
We are currently engaging with visiting faculty to better understand some of the challenges of working across the organisations so we can make this easier and more "seamless" in the future.
Interview panels for consultant posts now include a member of the visiting faculty, supporting links between hospital and university from the outset.
In the future we would like to increase the number of staff working across the two organisations, supporting staff to engage with university colleagues across the faculties and develop and deliver solutions to some of the challenges that face healthcare today.
Stimulus for research and innovation
With our shared goal of helping people live longer, healthier lives, we collaborate on a number of research projects – tackling everything from nurse retention to supporting patients with hip osteoarthritis.
In February 2021 we are reviewing areas of collaboration already underway and identifying areas of potential joint focus in the future.
As a university hospitals trust we are developing a joint clinical trials unit in 2021 that will enhance further our research capability making this a great time to get involved.
Meeting future challenges
We are currently planning a range of events which enable staff from university and hospitals to meet and discuss particular themes, helping to generate new ideas, research, education and training that will help us solve some of the challenges we face.
Officially opening in 2021, the state-of-the-art specialist facilities in the new Bournemouth Gateway Building will also facilitate further collaboration, training and research projects between BU and University Hospitals Dorset.
Work is already underway between radiology teams and the Institute of Imaging and Visualisation (IMIV) to share facilities such as scanners and develop training programmes that will support our teams to deliver imaging services in the future.
In summary
As University Hospitals Dorset (UHD) begins this exciting new chapter, our partnership will enable us to continue working together for the benefit of our staff, students and society.
Joining together provides us with an exciting and unique opportunity to take the best of BU and UHD and make a real difference to the health of the region, nation and the world.
Quotes
Jillian Ireland, Midwife Advocate at UHD
"I have benefited both personally and professionally from being a part of collaborations between Poole Maternity and BU. I have enjoyed the supportive relationships with colleagues and exposure to fruitful research workshops and interactions with students and staff. Services provided at Poole have grown in quality and breadth of provision as a result."
Jamie Franklin, Consultant Radiologist UHD and Head of IMIV, Bournemouth University
"The BU partnership with UHD is a fantastic opportunity for both institutions to realise the benefits of collaborative research, education and training. This will bring investment and innovation in healthcare in our region, for the benefit of patients and communities"
Kevin Turner, Consultant Urologist UHD and Visiting Fellow, BU
"Being involved in collaborative research between UHD and BU has been hugely satisfying. It has added a whole new and welcome strand to my professional life. I have enjoyed it enormously and hopefully we have done some good"
News
Links