Bournemouth University (BU) – University Hospitals Dorset (UHD) Partnership Programme
The University Hospitals Dorset NHS Foundation Trust works in partnership with Bournemouth University to the benefit of both organisations.
Drawing on the collective expertise from university and our hospitals not only creates more opportunities for students, university and hospital staff; crucially, it also promotes better patient outcomes and supports people to live longer, healthier lives.
As University Hospitals Dorset, staff from across the hospitals are able to link with counterparts at the university, working and learning together to improve services for patients. The Trust's University status agreed in October 2020 formally recognises our close working relationship and supports further collaboration.
The BU-UHD Partnership Strategy agreed in May 2021 identifies the areas on which we plan to focus and the BU-UHD Partnership Programme aims to support both organisations deliver the many benefits from our collaboration.
This work is overseen by a joint BU-UHD Partnership Steering Committee, bringing together representatives from across the hospital and across all 4 faculties of BU together for the first time.
For more information about each of the areas of focus click on the links in the diagram below.
For more information on how to get involved contact BU-UHD Partnership Programme Manager This email address is being protected from spambots. You need JavaScript enabled to view it..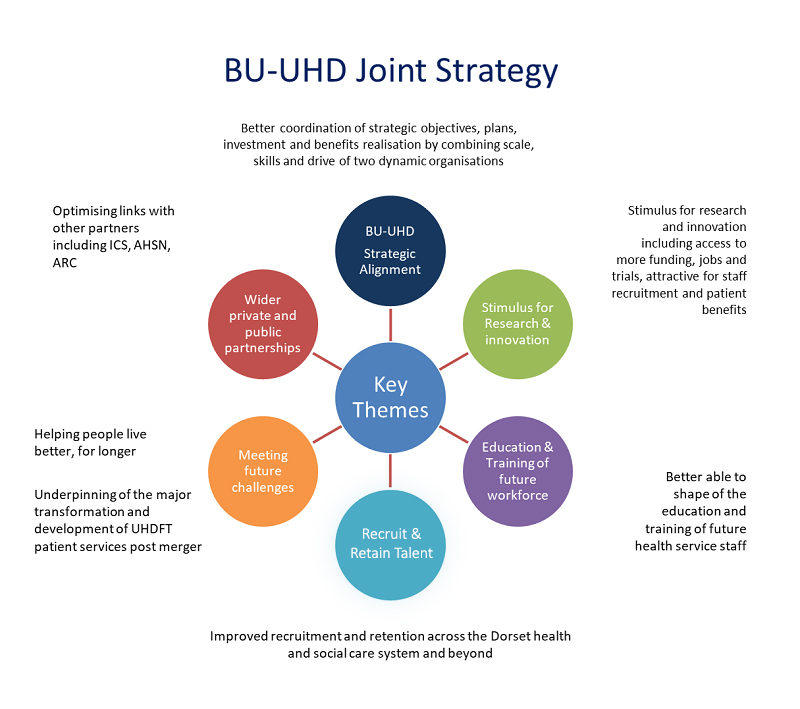 BU-UHD Partnership Programme
The BU-UHD Partnership Programme Steering Committee oversee progress on the jointly developed BU-UHD Partnership Programme Plan.
The impact of the programme is recorded in the corresponding benefits realisation report. This is used to advise key stakeholders of progress and inform an annual programme report.
For more information on the programme management aspects of the partnership please contact BU-UHD Partnership Programme Manager Sue Varley This email address is being protected from spambots. You need JavaScript enabled to view it..
The programme manager also has a signposting role for those wishing to identify appropriate colleagues at each organisation with whom to collaborate on specific topics.
Exploratory events in early 2021 have enabled Pharmacy, Radiography, Medical Physics, IM&T and Pathology teams to each explore potential areas of collaboration with colleagues from any of the 4 faculties at Bournemouth University.
With faculties in Media & Communication, Science and Technology, Health & Social Science plus a Business School, the University have students and academics interested in all aspects of delivering healthcare now and in the future.
Further sessions are now being planned for Autumn.
Strategic alignment
Aim: Better coordination of strategic objectives, plans, investments and benefits realisation by combining the skills and drive the two organisations.
The BU-UHD Partnership Strategy sets out how we plan to
"Develop a culture of innovation, research and education across the workforce and raise the profile of opportunities across BU and UHD."
The aim and actions for joint development in each of the six areas of focus are listed and promotes a "joint by default approach" between the organisations. The programme complements the existing strategies and work at each individual organisation and builds on the work that is already underway together.
It is through delivery of this strategy in the next three years that we will expect to see benefits delivered and an ever increasing closer collaboration between BU and UHD for the benefit of service users, students, staff, employers and the wider community.
Stimulus for research and innovation
Aim: Build an infrastructure to facilitate collaboration and a portfolio of research aligned with respective strategic goals.
With our shared goal of helping people live longer, healthier lives, BU and UHD already collaborate on a number of research projects, tackling everything from nurse retention to supporting patients with hip osteoarthritis.
Under the partnership programme, research leads are developing a joint research strategy and investment prospectus to support development of joint research in both existing and new areas.
Work is underway to remove some of the barriers to embedding research in clinical teams, increasing the number of joint posts, honorary contracts and building links across teams.
Exploratory events with representatives from all the faculties allow clinical groups to start to explore potential areas of joint work together, focused around key clinical challenges / "wicked problems" that matter to patients and staff.
As a university hospitals trust we are further developing a joint clinical trials unit that will enhance further our research capability making this a really great time to get involved.
A new BU-UHD Partnership Research Committee was set up in March 2022 to support research collaboration.
With representatives from across the hospital and university, the group will
develop clear processes that enable research to occur – this committee will work together to set up those processes wherever needed.
act as the signpost/greeter/gatekeeper for BU-UHD research activity and facilitate growth in research across the organisations. This will be done via a central data base of expressions of interest enabling the committee to monitor and support the development of research bids.
support development of joint posts, honorary contracts and signposting to make best use of talent and resources
monitor research activity to ensure it meets governance targets of both organisations
Education and training of our future workforce
Hundreds of BU students from a number of healthcare disciplines undertake placements in our hospitals, giving them the chance to put their learning into practice with support and guidance from a mentor or practice supervisor. We hope to increase the numbers of placements for BU students including those in non-clinical disciplines studying at the business school, faculty of media and communications and faculty of science and technology, helping us to promote the NHS as a great place to work.
2022 sees us advertise paid year long internships within the UHD Strategy and Transformation Team for business school and faculty of media and communication students and our first environmental science placements with Stuart Lane, UHD Sustainability Lead.
New internships set up in 2021 continue to be successful in our busy pathology departments – something the team are keen to continue next year.
Opportunities exist too for our staff - Lecturer Practitioners combine teaching at the university with clinical roles in the hospital, ensuring skills learnt in the classroom translate into real world scenarios. A vital part of the workforce for both organisations, the number of these roles is likely to increase as we work more collaboratively.
As we work more closely with Bournemouth University we will be able to play a bigger role in developing training and CPD for the future in both medical and non-medical areas, utilising the expertise that already exists within our teams.
New joint working groups are reviewing what training is currently available and co-designing future modules and programmes in Pharmacy, Medical Physics, Radiography and Pathology.
Working with the Business school we are currently developing a new apprenticeship programme aimed at our more senior managers. On successful completion of the course, staff will receive Level 7 Senior Manager Apprenticeship, Postgraduate diploma in Business and, thanks to the CMI being appointed external assessor, have Chartered Manager status. Students can then choose to undertake a top up module to achieve a Masters in Business Administration award (MBA).
First entry on this Dorset ICS closed cohort course is set for Sept 2022 and - hope helps offer those with management responsibility the opportunity to study locally for professional qualifications and offers those in leadership positions a chance to share their knowledge with the leaders of the future.
Recruit and Retain Talent
We currently have over 40 members of UHD staff who are visiting faculty members working closely with colleagues in both organisations. More staff work as lecturer practitioners or have joint posts between BU and UHD.
We are now working together to actively increase the number of staff working across the two organisation, developing a framework for agreeing joint posts and honorary contracts that embed joint working within teams.
BU has expertise in a wide range of topics across the 4 faculty areas: Media & Comms, Health and Social Science, Business School and Science & Technology, making joint posts possible for a range of hospital teams.
Visiting Professors make significant contributions to providing leadership with university staff on relevant education, research or practice development projects, contributing to high quality outputs. These members of staff are individuals of the highest standing in their profession who are held in high esteem as leading thinkers in their field.
Visiting Fellows make an on-going commitment to education, research or practice, contributing to high quality outputs. Visiting fellows hold a postgraduate/research degree qualification (normally a doctorate) and have a nationally/ internationally renowned reputation, able to support the education, research or practice activities of the University in a specific subject area.
Visiting Associates make a contribution to a defined programme of education, research or practice in association with a member of the academic staff or a recognised academic grouping.
Interview panels for consultant posts now include a member of the visiting faculty, supporting links between hospital and university from the outset.
Current visiting faculty are supporting us to better understand some of the challenges of working across the organisations so we can make this easier and more "seamless" in the future.
Meeting future challenges
We are currently planning a range of events which enable staff from university and hospitals to meet and discuss particular themes, helping to generate new ideas, research, education and training that will help us solve some of the challenges we face.
Officially opening in 2021, the state-of-the-art specialist facilities in the new Bournemouth Gateway Building will act as a hub for visiting staff from University Hospitals Dorset.
Work is already underway between radiology teams and the Institute of Imaging and Visualisation (IMIV) to share facilities such as scanners whilst working to develop training programmes that will support delivery of imaging services in the future.
Wider private and public partnerships
As University Hospitals Dorset (UHD) begins this exciting new chapter, our partnership will enable us to continue working together for the benefit of our staff, students and society.
Joining together provides us with an exciting and unique opportunity to take the best of BU and UHD and make a real difference to the health of the region, nation and the world.
Working with patients and colleagues from across the Dorset Integrated Care System, AHSN, ARC, Local enterprise partnership, private partners and others we hope to build on our existing wider partnerships to the benefit of all.
Quotes
Jillian Ireland, Midwife Advocate at UHD
"I have benefited both personally and professionally from being a part of collaborations between Poole Maternity and BU. I have enjoyed the supportive relationships with colleagues and exposure to fruitful research workshops and interactions with students and staff. Services provided at Poole have grown in quality and breadth of provision as a result."
Jamie Franklin, Consultant Radiologist UHD and Head of IMIV, Bournemouth University
"The BU partnership with UHD is a fantastic opportunity for both institutions to realise the benefits of collaborative research, education and training. This will bring investment and innovation in healthcare in our region, for the benefit of patients and communities"
Kevin Turner, Consultant Urologist UHD and Visiting Fellow, BU
"Being involved in collaborative research between UHD and BU has been hugely satisfying. It has added a whole new and welcome strand to my professional life. I have enjoyed it enormously and hopefully we have done some good"
Tim McIntyre-Bhatty, Deputy Vice Chancellor BU
"Sometimes these things feel like hard work but this one doesn't look like hard work! More and more people want to be involved – quite different than other experiences to date. Words like sharing, collaborating are often written/spoken but this feels like we are living up to these words and this partnership can be exemplar. Joint collaboration now has a life of its own which is positive."
Links