Bournemouth University (BU) – University Hospitals Dorset (UHD) Partnership Programme
The University Hospitals Dorset NHS Foundation Trust works in partnership with Bournemouth University to the benefit of our patients, students, staff, organisations, partners and the wider community community.
Drawing on the collective expertise from university and our hospitals not only creates more opportunities for students, university and hospital staff to increase their knowledge and skills; crucially, it also promotes better patient outcomes and supports people to live longer, healthier lives.
As University Hospitals Dorset, staff from across the hospitals are able to link with counterparts at the university, working and learning together to improve services for patients. The Trust's University status agreed in October 2020 formally recognises our close working relationship and supports further collaboration. A BU-UHD joint strategy (May 2021) identifies the 6 areas on which we plan to focus over the 3 year period 2021– 2024.
Each year, senior leaders from hospital and university develop the annual BU-UHD partnership programme setting out clearly how we intend to work together in new areas in the coming year in order to deliver the goals in the strategy.
The joint BU-UHD partnership steering committee, chaired by our Chief Medical Officer meet monthly to review progress and work together to enable improvements that often require cross organisational cooperation take place.
For more information about each of the focus areas in the strategy please click on the links in the diagram below.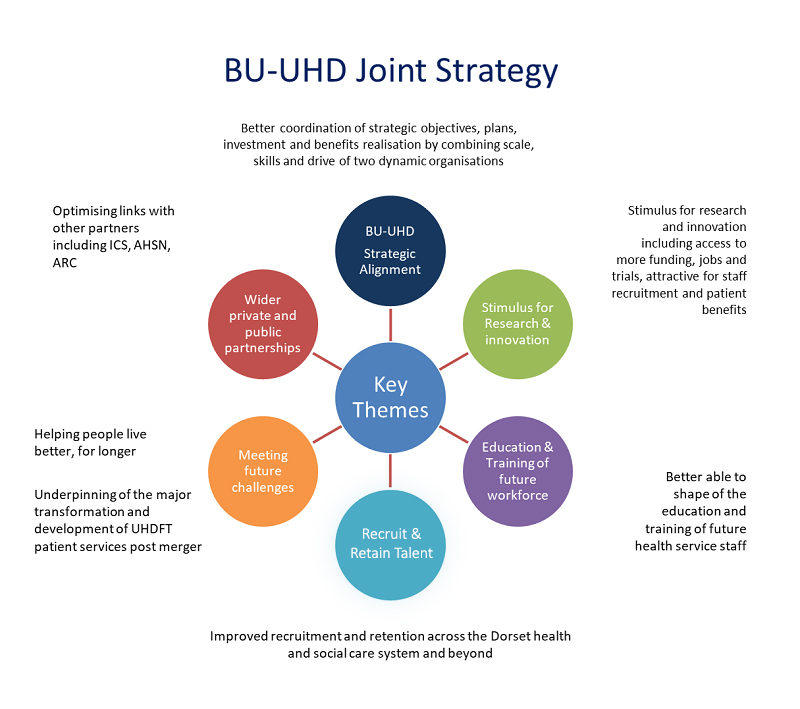 BU-UHD Partnership Programme
The BU-UHD Partnership Programme Steering Committee oversee progress on the jointly developed BU-UHD Partnership Programme Plan.
Membership of the steering committee which is currently chaired by our Chief Medical Officer, reflects the seriousness in which both organisations take this partnership.
The impact of the programme is recorded in the corresponding benefits realisation report. This is used to advise key stakeholders of progress and inform the BU-UHD partnership annual review meeting with our UHD Chief Executive and Vice-Chancellor of BU and end of year annual programme report.
For more information on the programme management aspects of the partnership please contact BU-UHD Partnership Programme Manager Sue Varley This email address is being protected from spambots. You need JavaScript enabled to view it.
Strategic alignment
Aim: Better coordination of strategic objectives, plans, investments and benefits realisation by combining the skills and drive the two organisations.
The BU-UHD Partnership Strategy sets out how we plan to
"Develop a culture of innovation, research and education across the workforce and raise the profile of opportunities across BU and UHD."
The aim and actions for joint development in each of the six areas of focus are listed and promotes a "joint by default approach" between the organisations. The programme complements the existing strategies and work at each individual organisation and builds on the work already underway.
It is through delivery of this strategy in the next three years that we will expect to see benefits delivered and an ever increasing closer collaboration between BU and UHD.
Stimulus for research and innovation
Aim: Build an infrastructure to facilitate collaboration and a portfolio of research aligned with respective strategic goals.
With our shared goal of helping people live longer, healthier lives, BU and UHD already collaborate on a number of research projects, tackling everything from nurse retention to supporting patients with hip osteoarthritis.
Under the partnership programme we are increasing the opportunities for staff to work with colleagues on joint research projects that will help us address the challenges we face.
The new BU-UHD research steering committee is currently chaired by the Faculty Dean for the Faculty of Health and Social Sciences and is tasked with reducing the barriers to joint research for our staff.
We believe that streamlining processes, publishing pathways and "how to" guides and holding research themed events will all support researchers to identify colleagues with whom to work on research and help ensure we build a healthy research community that reaches across the hospital departments and university faculties. Better signposting to opportunities to develop research skills and access mentoring will help develop our researchers of the future regardless of their professional background.
The steering committee monitors joint research activity, awards match funded funding and supports staff link together and develop research ideas into research bids for funding or where suitable develop proposals for match funded PhD.
The first of our new look research events - Collaboration now and in the future, enabled staff from both BU and UHD in October 2022 to network and develop ideas for potential joint research in 5 themed areas: health inequalities, people and workforce, digital futures, sustainable futures and medical sciences. Staff from UHD research department, research development support at BU and the BU doctoral college were all on hand to answer questions from those attending.
For more information on the work of the research steering committee contact BU-UHD Programme Manager This email address is being protected from spambots. You need JavaScript enabled to view it. or This email address is being protected from spambots. You need JavaScript enabled to view it..
Education and training of our future workforce
For many years hundreds of BU students from a number of healthcare disciplines undertake placements in our hospitals, giving them the chance to put their learning into practice with support and guidance from a mentor or practice supervisor. This expanded and we now host over 1500 BU students on placements per year!
We are now working to increase the numbers of placements for BU students studying at the business school, the faculty of media & communications and the faculty of science and technology, helping us to promote the non clinical roles in the NHS and showcasing UHD as as a great place to work locally.
Year long, paid internships set up in 2021 continue to be successful in our busy pathology departments and new internships have just started with business school students in our strategy and transformation team. We hope these expand significantly in 2023 across more departments.
Despite the pandemic in 2022 BU students from the faculty of science and technology and media and communications joined a number of different hospital teams on short placements to gain experience. These included placements with our communications team and with our sustainability lead.
Opportunities exist for our staff too - lecturer practitioners combine teaching at the university with clinical roles in the hospital, ensuring skills learnt in the classroom translate into real world scenarios. A vital part of the workforce for both organisations, the number of these roles is likely to increase as we work more collaboratively and co-deliver new programmes in a range of areas including biomedical science, business informatics and leadership.
Live briefs enable students at the university to work on real case scenarios and provide new ideas and energy to our hospital projects. Successful live briefs in 2022 include working with media students to design our TB awareness campaign.
A new BU-UHD people and workforce steering committee was approved in October 2022 and will start work shortly.
We are actively working with BU to address a number of gaps in our education provision locally - programmes needed in order to deliver services in the future.
Working with BU Business school we have co-designed and co-delivered a senior leader level 7 apprenticeship with MBA top up with BU Business School. Open to managers from across the Dorset ICS this provides a local opportunity for our aspiring future leaders to develop together. Applications for our second intake (September 2023) open in the spring. This is the first of a number of courses under development.
For more information on the work of the education and workforce group please contact BU-UHD Programme Manager This email address is being protected from spambots. You need JavaScript enabled to view it. or for queries on the Senior Leader Level 7 apprenticeship contact your line manager.