Maternity services at Poole Hospital
Poole Hospital's maternity service is based at St Mary's Maternity Hospital, located across the road from the main Poole Hospital site.
Maternity Visiting Guidance from 17th January 2023
The Maternity Team are pleased to update visiting arrangements and guidance for attending appointments and on inpatient wards. Our aim is to enable visiting and maintain safety for patients, babies, families and our staff.
Please see our Visiting Guidance for more information >
Please do not enter the Maternity Unit if you are a visitor and have Covid or are unwell.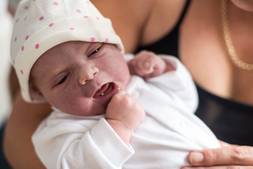 Care is shared between midwifery and medical staff, and is undertaken in community settings and within the maternity hospital.
Women may give birth in the Haven Birthing Suite, which has three birthing pools or the Central Delivery Suite which has two birthing pools, depending on their clinical needs.
St Mary's Maternity Hospital is the centre for all high risk care in East Dorset and is fully equipped to meet the needs of women and babies with complications, as well as women with normal pregnancies and births. Around 4,000 babies are delivered by our maternity staff each year, either at home or within the hospital.
Following delivery, and if there are no complications, mothers will remain in hospital for at least two hours. However, mothers and babies will only return home when they are well enough to do so. Comprehensive postnatal care is provided, either on the postnatal ward, or at home by the community midwives and maternity support workers.
Women with babies in the Neonatal Intensive Care Unit (NICU) or on the Transitional Care Unit may stay longer, as will women who have undergone assisted delivery or caesarean section.
Self-referral service
If you are more than six weeks pregnant, you can now book your care at Poole Hospital by completing our self referral form. Click here to find out more about the self-referral service