Maternity services at Poole Hospital
Poole Hospital's maternity service is based at St Mary's Maternity Hospital, located across the road from the main Poole Hospital site.
Covid-19 guidance
In line with national guidance, we ask that all pregnant women - as well as their support partners - take part in the government's twice weekly rapid testing programme.
From 4 May, we will be asking women to take a test 24 hours before their outpatient, community and scan appointments and show their results when booking in. If you want a support partner to accompany you, they should also self-administer a test within 24 hours before the appointment - see visiting restrictions below.
The tests are to help us provide safe and personalised maternity care and to enable your support person to attend your maternity appointments with you.
Your safety is our priority and we will always see you for your appointment. Please ask our staff if you have any questions and arrive at least 30 minutes early for your appointment if you have any concerns or have been unable to access testing for your support partner as your appointments need to start on time.
If you need to attend as an emergency, please do not delay coming into the unit even if you, or your support partner hasn't had a recent Covid test. We will assist you and make alternative arrangements.
Changes to visiting restrictions from Monday 12 April
As the spread of the Coronavirus evolves, we are now able to relax some of our restrictions around partners / support people coming into the unit. These changes will take place from 12 April 2021.
All partners / support people accompanying pregnant women to their appointments or visiting the maternity unit may attend subject to a negative lateral flow test (LFD). It is the responsibility of the partner / support person to arrange an LFD test before attending.
Any partner who is self-isolating with Covid-19 symptoms, self-isolating following contact with a Covid-19 positive person or has received a positive Covid-19 test result will not be able to attend the maternity unit.
The tongue tie (frenulotomy) service at Poole Maternity Unit is running as usual.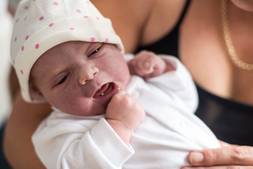 The maternity hospital provides a comprehensive service, offering women as much choice as possible in their maternity care. We are proud to have achieved full accreditation by the Baby Friendly Initiative (BFI).
View the virtual tour of the maternity unit here
Care is shared between midwifery and medical staff, and is undertaken in community settings and within the maternity hospital.
Women may give birth in the Haven Birthing Suite, which has three birthing pools or the Central Delivery Suite which has two birthing pools, depending on their clinical needs.
St Mary's Maternity Hospital is the centre for all high risk care in East Dorset and is fully equipped to meet the needs of women and babies with complications, as well as women with normal pregnancies and births. Around 5,000 babies are delivered by our maternity staff each year, either at home or within the hospital.
Following delivery, and if there are no complications, mothers will be asked to remain in hospital for at least two hours. However, mothers and babies will only return home when they are well enough to do so. Comprehensive postnatal care is provided, either on the postnatal ward, or at home by the community midwives.
Women with babies in the Neonatal Intensive Care Unit (NICU) or on the Transitional Care Unit may stay longer, as will women who have undergone assisted delivery or caesarean section.
Women are then cared for following the birth of their baby by the team of community midwives.
Self-referral service
If you are more than six weeks pregnant, you can now book your care at Poole Hospital by completing our self referral form. Click here to find out more about the self-referral service
Maternity Fund Raising Campaign
The Poole Maternity Team is currently fundraising to upgrade and equip the birthing rooms on the Labour Ward.
If you would like to make a donation, please click on the link or use the text number below.
https://www.justgiving.com/campaigns/charity/phwl/Maternity
Text to 70070 quoting BUMP01 and the amount you want to donate - £3, £5, £10
If you would like to hold a fundraising event on behalf of the maternity unit please contact
Debbie Randall, Maternity Fundraising co-ordinator at This email address is being protected from spambots. You need JavaScript enabled to view it.
Thank for your Support